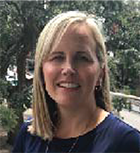 Rachel Patrick (Director of Product Managment)
Rachel is responsible to establish product strategy, roadmap and feature definitions for ShareSafe's platform, products and services.
Throughout Rachel's career, she has designed, sold and/or provided client support services for electronic health records, revenue cycle management, and other clinical software applications plus healthcare cardiac devices. Her knowledge of clinical workflow and software systems uniquely positions her to deeply understand client needs facilitating the design and development of innovative software solutions.
With over ten years of experience in the healthcare industry, Rachel is a results-driven account management professional, combining a strong personal work ethic, a high level of energy and initiative, and superb organizational, communication and customer service skills to meet and surpass defined goals and objectives.
Rachel holds a Bachelor of Science degree in Education from the University of South Alabama.